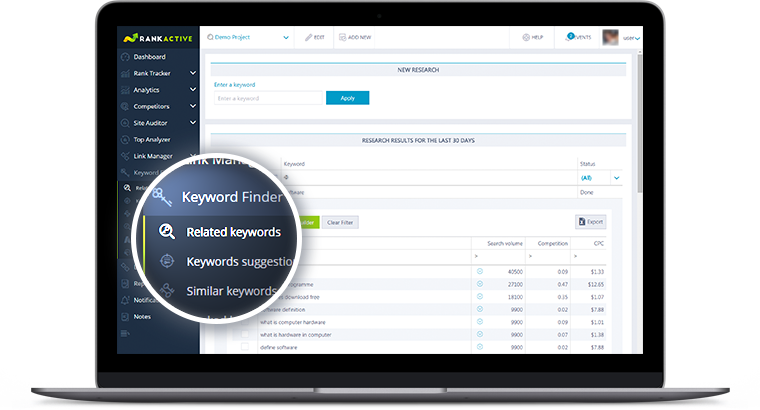 Keyword Finder
Keyword Finder will provide you with a unique set of keyword ideas from five different data sources.
Refresh your keyword list with related, similar, suggested, ranked, and AdWords ideas.
HOW DOES IT HELP? WHAT WILL KEYWORD FINDER DO FOR MY BUSINESS?
How does Keyword finder help?
Keyword Finder can help you to get valuable keywords from Google Autocomplete and Google Related Search (also known as LSI keywords). Moreover, this tool provides an opportunity to find out keywords that your competitors are ranking for and boost your voice search optimization strategy with a list of trending long-tail keyword ideas.
RankActive's Keyword Finder is the most advanced keyword research tool you will ever encounter.
IS KEYWORD FINDER FOR ME?
Keyword Finder will be useful for any business and any website. It doesn't matter whether you are a blogger or a huge SEO agency - this tool will help you to identify valuable terms and build an efficient keyword list from the ground up.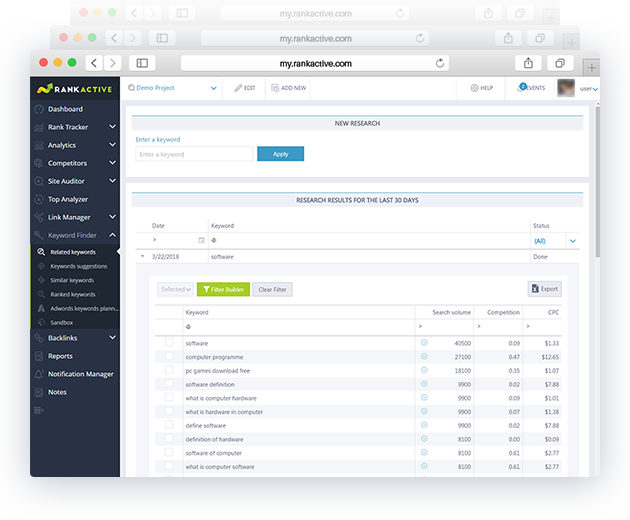 See It In Action
A picture is worth a thousand words.
See how Keyword Finder can help to grow your rankings!
AMAZING FEATURES THAT DRIVE SUCCESS
RANKED KEYWORDS
Get keywords that any website is ranking for
RELATED KEYWORDS
Get LSI keywords from Google Related Search
SUGGESTED KEYWORDS
Amazing keyword ideas from Google autocomplete
SIMILAR KEYWORDS
Long-tail keywords to rock in Voice Search
ADWORDS KEYWORDS
Efficient keywords straight from the biggest online advertising service
KEYWORDS DATA
CPC, ETV, Search Volume and other metrics help to pick only the most valuable keywords.
TRY OUT THE MOST COMPLETE KEYWORD RESEARCH TOOL!
Give your website a boost today!