Report Center
Empower your reporting with RankActive
Get the most important data straight to the inbox
Report center: video overview
HOW DOES IT HELP? IS IT SUITABLE FOR MY BUSINESS?
HOW DOES IT HELP? WHAT WILL REPORT CENTER DO FOR MY BUSINESS?
Report Center makes your SEO work a lot easier. Select what type of SEO report you want to send and download it immediately. You can also set up a schedule to automate the process.
No more reporting headaches! Our automated reporting system is fully customizable. Save your time with Report Center and keep your clients happy.
WHOM IS THIS FEATURE FOR?
Report Center is devised to serve the needs of every business. Whether you are an SEO expert, inbound marketer, or business owner - this feature will help you to speed up your everyday workflow and optimize the reporting process.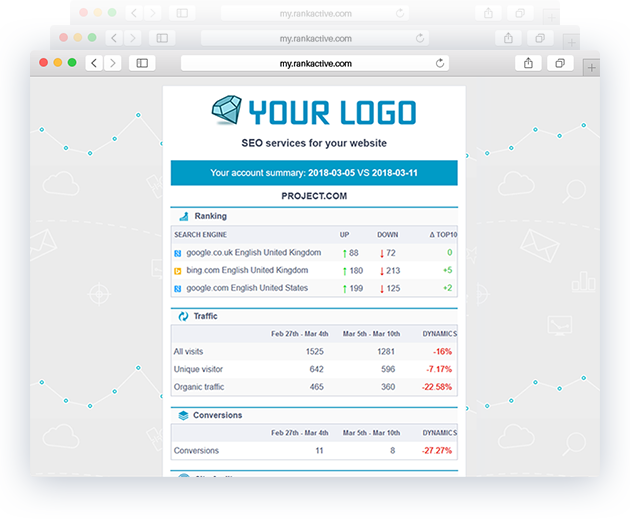 See It In Action
A picture is worth a thousand words.
See how Report Center can help to automate your work!
AMAZING FEATURES THAT DRIVE SUCCESS
REPORTS TO INBOX
Receive your reports directly to your inbox
FEW RECIPIENTS OPTION
You can choose one or more recipients for the selected report
CHOOSE YOUR TIME
Select timezone and time when you wish to receive a report
QUICK REPORT
Want to generate report immediately? No problem!
TRY OUT THIS GAME-CHANGING FEATURE!
Give your website a boost today!