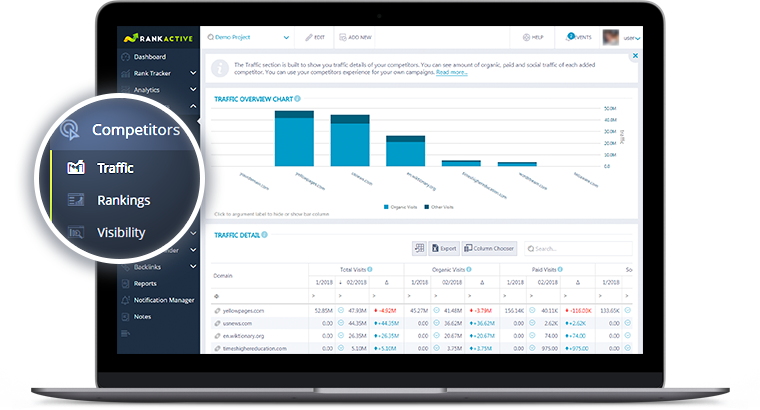 Competitors inspector
Competitors Inspector will help you to find competitors, track their traffic, rankings, visibility. This tool will also find your rival's backlinks and keywords.
With Competitors Inspector you will always be one step ahead of the SEO game!
Competitors inspector: video overview
HOW DOES IT HELP? WHAT WILL COMPETITORS INSPECTOR DO FOR MY BUSINESS?
How does Competitors inspector help?
Competitors Inspector helps to understand who your competitors are, and compare your website against theirs. This tool provides a valuable insight into your rivals' traffic, keywords, backlinks, visibility, and rankings.
With Competitors Inspector you can make the deep research about your competitor's SEO tactics and capitalize on their techniques.
IS COMPETITORS INSPECTOR FOR ME?
Competitors research is an essential part of any business. Competitors Inspector makes it a lot easier to get a complete picture of competitors' online efforts and eventually take off on the highly competitive landscape.
Whether you are a website owner or a big SEO agency, with Competitors Inspectors you get more of a chance to be ahead of the curve.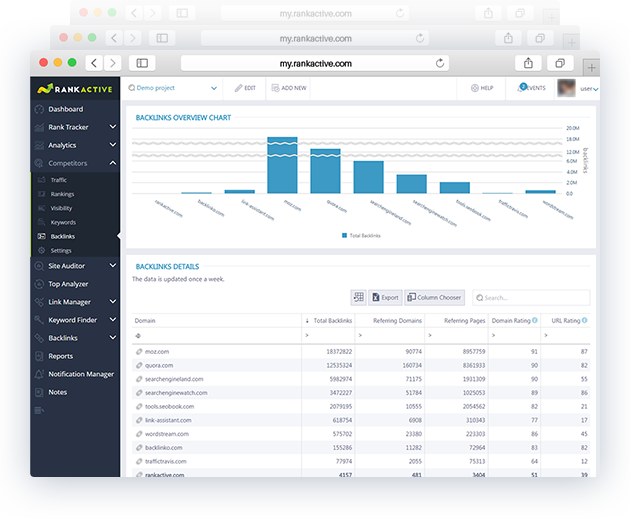 See It In Action
A picture is worth a thousand words.
See how Competitors Inspector can help to outthink your rivals!
AMAZING FEATURES THAT DRIVE SUCCESS
FIND YOUR COMPETITORS
Competitors Inspector will generate a list of your potential competitors based on keywords crossover, while also allowing you to add competitors manually.
KEYWORDS ANALYSIS
Competitors Inspector will dig into keywords that your competitors are ranking for, so you can see where they overlap with your website's keywords.
TRAFFIC ANALYSIS
Competitors Inspector will provide you with valuable insights into your rival's organic, paid, referral, and social traffic.
RANKING ANALYSIS
Competitors Inspector helps to compare your rankings against your competitors' and see where your website could have performed better.
VISIBILITY COMPARISON
Competitors Inspector make visibility analysis a lot easier. It helps to oversee the Estimated Traffic Volume as well as the Search Visibility Value of your competitors.
AUTOMATIC DATA UPDATES
Competitors Inspector automatically updates rankings and visibility data once a week. Traffic data updates are made once a month.
DYNAMICS OF VALUES
Competitors Inspector offers a precise picture of what key values have changed over time. This tool will make it a lot easier to compare your growth against your competitors.
TRY OUT THE MOST COMPLETE COMPETITOR RESEARCH TOOL!
Give your website a boost today!